Celebrating Ostomy Awareness Day as a Victory in Fighting Bladder Cancer
Ostomy Awareness Day happens every year in the US on the first Saturday in October. For me, I celebrate it for the entire month. It is an exciting thing for me. It is an opportunity to celebrate being alive because, without my ostomy, I surely would not be alive today.
Under normal circumstances - you know, pre-COVID-19 - it would be a time of Walk/Runs and gathering with fellow ostomates in person. I like to meet with friends for meals, share my story, and talk about my successes with fellow ostomates and friends.
Celebrating Ostomy Awareness Day virtually
This year, nationwide, things look differently. Everything is virtual. There's still lots to do to acknowledge the day. I am just as excited as always despite being disappointed at the lack of in-person gathering.
How I'm participating
I will be participating in the national Run for Resilience - by walking. And as I walk, I'll have blue and green on, including my Ostomy Awareness Day/Run for Resilience shirt, makeup, a temporary tattoo that says "Ostomies are Lifesavers," nail polish and jewelry. As I walk, I'm going to take some video and pictures. I will spend the day doing a full-fledged, across the board social media campaign and participating in several nationwide Zoom calls. I will talk with friends on Sunday to see how they celebrated the day.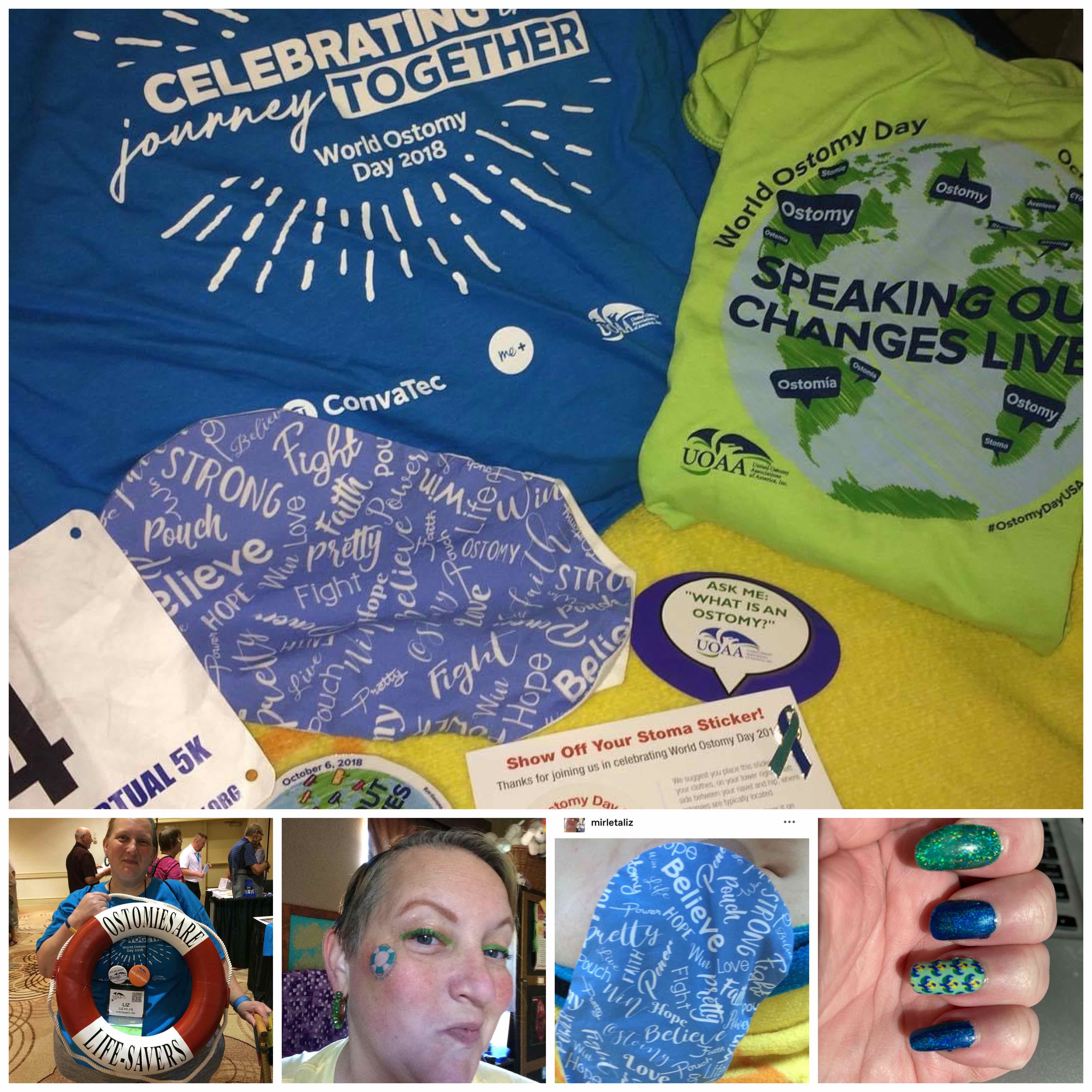 Why I made the decision to have an ostomy
When I was first diagnosed with bladder cancer in August 2016, I was not sure I would survive it. I quickly made the decision to go with having an ostomy because I knew that I could have a good quality of life with it. As the saying goes, you die with an ostomy, not because of an ostomy.
I have also, with other members of my local ostomy support group, secured proclamations from local government. The United Ostomy Associations of America makes it very easy by supplying an electronic form with a rough draft of a letter for you to use to petition your local government for the proclamations. They update it every year.
Feeling grateful
Even though my path was challenging - so challenging - I am grateful daily for the fact that I have an ostomy and that I survived. Those of us bladder cancer survivors with ostomies are fortunate to have 2 whole months to celebrate our survival. We have Bladder Cancer Awareness Month in May and October for Ostomy Awareness.
Share your ostomy story!
I challenge all of you with ostomies to get out of your comfort zone this month and share your ostomy story in some way. You can choose to share your full story with friends or family that may not know what you went through. Another option is using a public forum, like our community boards or social media, to make a grand statement about your story. It is important for your voice to be heard.
Sharing your story allows others to empathize with what you went through. It gives hope to those going through similar paths now. Most of all, it gives you strength and allows for the opportunity to heal.
Happy Ostomy Awareness Day!
Please share with us your experiences this month. We would love to hear (and see photos) how you celebrated being alive. I know I will be making posts about it and I hope you will also. I'll be looking forward to hearing from you. Until then, HAPPY OSTOMY AWARENESS DAY!
This article represents the opinions, thoughts, and experiences of the author; none of this content has been paid for by any advertiser. The BladderCancer.net team does not recommend or endorse any products or treatments discussed herein. Learn more about how we maintain editorial integrity
here
.