Jim's Bladder Cancer Story: Chemo Cog Fog & Owning His Journey
We're highlighting people in the bladder cancer community. I talked to Jim who shares his personal story and how reading other people's stories on BladderCancer.net prepared him for treatment and recovery.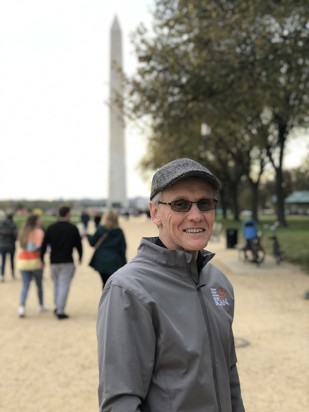 Jim's bladder cancer diagnosis
I started out feeling very tired and sore all of the time. I went to a Rheumatologist to see if it was due to arthritis. I had indications on my left hand that it was starting to happen. After discussing with him regarding my symptoms, he ordered a full body cat scan. In addition, I had been seeing my Nephrologist because my left kidney had been sore. In the past, I have passed a few stones and I suspected I had another one ready to pass due to blood in my urine. (I had blood in the past when I passed a stone.)
A spot found in my bladder
After my cat scan, the rheumatologist called two days later to discuss the results. He stated that it looked like I had minor Osteoarthritis in my left hand and but nothing major. However, he wanted me to visit with my nephrologist again regarding a spot found in my bladder.
I went and visited her and she stated that there was indeed a spot on the bladder. I also had a 4mm Kidney stone that should really come out. So she set up a time to meet with one of the best Oncology Urologists at George Washington University.
My first cystoscope was invasive and painful
On my first visit with him, he stated that he had scheduled a cystoscope to check inside my bladder. I said, what is a cystoscope? He was very kind to explain to me what it was. I asked him when this will take place and he said right now. Oh and by the way, I have 5 interns/students who will be assisting me with the procedure.
I have to admit, that was the most invasive and painful procedures I had ever had in my life. But I did find out that I had a 2.5cm and a 1cm non-invasive papillary urothelial carcinoma tumor. It was considered a level T1. The diagnosis was given in June 2019.
Treating bladder cancer with TURBT and Gemcitabine
Q: What treatments did you have following your diagnosis?
Jim: In early August 2019, I had my one and only TURBT and the following 15 month I had multiple chemo bladder instillation treatments with Gemcitabine.
Chemo side effects and cog fog
Q: How did the treatments and side effects impact your life?
Jim: I admit, the chemo installation was pretty easy. However, it was the side effects that were the hardest. I felt the effects of chemo flu like symptoms and chemo cog fog. My last bladder instillation was in October of 2020 and I still am feeling the the cog fog.
Real experiences and what to expect
Q: What's your favorite part about BladderCancer.net?
Jim: BladderCancer.net was very educational to me. This was a site that discussed real experiences and what to expect.
My doctor was not quite as upfront with me regarding recovery times. However, after reading articles from BladderCancer.net, I realized my recovery may take longer than described. It was very helpful when I had to discuss the realistic recovery time with my employer HR department.
Bladder cancer community gave me strength
Q: How has online support helped you?
Jim: I love to read the journeys of other bladder cancer survivors. I know that I am not alone and I truly could relate and this gave me strength during my journey.
Realizing I had a say when it came to my cancer
Q: What advice would you give to someone who is newly diagnosed with bladder cancer?
Jim: My advice is to take ownership of the cancer. When I was first diagnosed, I thought "What is the Dr going to do?"
Then I figured that this was my cancer. It's mine to own and I can do what I want with it. So I decided to be very aggressive with the battle of eliminating it. My perspective and confidence in the treatment process was my choice. My Dr was my advisor but I made the decisions. It was very empowering once I made that choice.
NED but still healing
Q: Anything else you'd like to add?
Jim: I just heard last Friday 11/20/2020 that my cancer is considered NED!!!!!!!!! When the Dr told me that, I broke down and cried. They were tears of joy and gratitude. Never forget to thank your Dr for his hard work and training. It goes a long way.
Also don't forget the wonderful and amazing nurses that assist in the chemo instillations. After each series of chemo treatments, I always brought in either cupcakes or cookies for the nurses. They are the true hero's! Their compassion and skill definitely helped me though this 15 month journey.
Also be aware, even though the DR stated that I am NED, he did state that the body needs to heal. So just expect that the cog fog and the fatigue may continue for 9 to 12 months. He stated that I beat you up for 15 month and now its time to heal. Plus the quarterly cystoscopes will continue for another year. Then bi-annuals after that.
A big thank you to Jim for sharing his bladder cancer story with us!