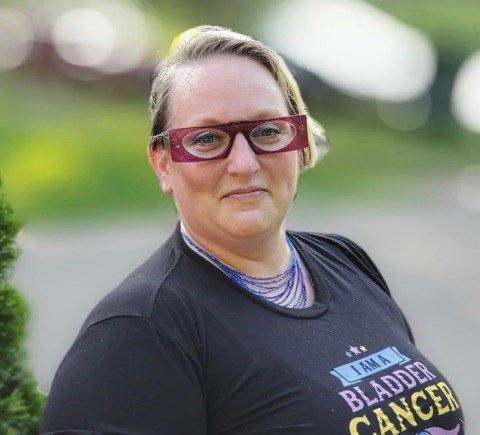 Liz was diagnosed with Stage III-B bladder cancer with a T4 Tumor in August 2016 just 3 months short of turning 41. Single, childfree, and without parent or sibling support, she learned to navigate treatment and survivorship with the love and support of friends, extended family, and even coworkers.
At the time of diagnosis, Liz had been fighting for answers from the medical community for at least 2 years, but since she didn't tick off any of the risk factors, she was brushed off with medications and the symptoms she described were ignored or not believed.
While waiting to have a radical cystectomy, she underwent a procedure to have a temporary nephrostomy in order to save one of her kidneys. At the time of her radical cystectomy, she also had a complete hysterectomy/salpingo-oophorectomy to remove the urothelial carcinoma. As a precaution, all of her pelvic lymph nodes were also removed. An ileal conduit (also known as a urostomy) was placed.
Liz experienced quite a few complications from her procedure and the originally slated 1 week in the hospital and 2 with inpatient rehabilitation turned into a combined 2 months. Following her discharge, she was able to somewhat enjoy her 41st birthday and Thanksgiving with close friends. The week after Thanksgiving, she had her first outpatient oncology visit, had the procedure to get her port, shaved her head and started chemo.
Five grueling, densely scheduled rounds later, Liz ended up in the hospital for a blood transfusion and more rehab before getting discharged and immediately returning to work in order to keep her position.
Slowly regaining strength, Liz eventually got involved with her local ostomy association and took over the presidency in January 2019. She has increasingly been getting involved at the national level. She also started a personal blog and took every opportunity to share her story.
When Liz is not raising awareness for bladder cancer and ostomy issues, she enjoys volunteering with her high school alma mater's student-athletes, doing anything creative, traveling, and spending time in nature and with friends and family.
Liz has never had an easy life, yet she was not ready to just give up when she received her diagnosis. Cancer has definitely been one of the biggest challenges of her life, but it also had a lot of gifts within the journey.
In September 2020, Liz transitioned to writing and advocacy work full time after being the administrative assistant to a special team of medical professionals at a pediatric hospital in her area where she was also able to assist in advocating for her teams' patients' ostomy needs. She has found this transition to be rewarding and beneficial on several levels. Liz looks forward to building on the foundation she started while being able to take better care of herself while advocating for others.
Click here to read all of Liz's articles on BladderCancer.net.