Stepping Back on Board Post-Pandemic
Last updated: November 2022
The sun setting as we took off from Faro Airport in Portugal was a sight to behold. The sun was also setting on our first holiday abroad since the pandemic.
I can't say I wasn't a little anxious about how Jack (my colostomy) and Victor (my urostomy) would be. After all, it was 2 and a half years since they had flown and been in the heat.
To my surprise or perhaps just realization, they and I had learned a lot during the pandemic and periods of lockdown.
Every leak or accident at home. Every new technique for managing their quirks or unexpected actions was an experience we brought on this trip. All incidents which made this a stress-free trip.
A diligent traveler
As always, I prepare diligently for all travel.
I make sure I have packed plenty of extra ostomy supplies as I know, especially when traveling to a hot country and on a vacation where I will often swim - I will have to change more often.
When traveling on flights, I always carry all my ostomy supplies on board. So, I contacted the special assistance department at the airline ahead of my trip to arrange extra cabin baggage allowance as I couldn't risk my luggage going missing.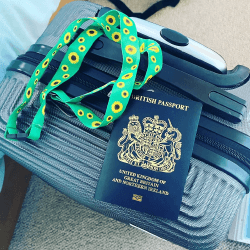 My urostomy in flight
For the flight, I wear a leg bag with my urostomy. This gives me the extra capacity and reassurance should, for example, the seatbelt sign be on for an extended period. I don't need to worry about my urostomy bag getting too full.
Going through security was without issue. In the early days post-surgery, I always used to tell the staff before I went through the scanner.
I realize that is unnecessary because I don't set off the alarm most of the time. I leave the buzzing to my husband, who, with his part titanium hip, constantly buzzes now!
If it does buzz for me, I will tell the security people before any "pat down," or search is needed.
Ostomy passport
I always carry an "ostomy passport," which many ostomy suppliers will provide or can be downloaded from most websites that explain what an ostomy is in different languages.
Not as crucial if traveling within the US or English-speaking countries but valid for foreign travel to, for example, the Caribbean, where some Spanish-speaking locations will have staff with limited English skills. I also find awareness and knowledge of what an ostomy actually is very low.
I do wear a sunflower lanyard which is available in the UK. It does not offer any specific perks or rights. It simply makes staff aware you have a hidden disability but not precisely what it is.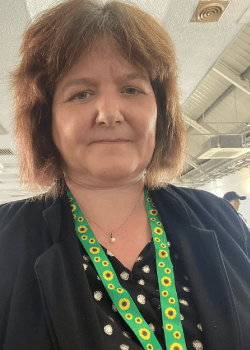 Living my best life
During the trip, I enjoyed lots of my favorite things. I swam in the pool and swam in the ocean. I enjoyed some fantastic local food and drink. I enjoyed just being me on holiday — me, not defined by my ostomies.
For the first time since my surgery, I felt my stomas belonged and were meant to be a part of me. I think I have found a new level of acceptance.
Yes, you recover in the initial weeks and months post ostomy surgery, but 4 and a half years on, I am happy to admit I am still learning. Perhaps I have come further in my journey than I have realized. I see that subconsciously. I now often forget about my ostomies for periods and get on with living my best life.
This article represents the opinions, thoughts, and experiences of the author; none of this content has been paid for by any advertiser. The BladderCancer.net team does not recommend or endorse any products or treatments discussed herein. Learn more about how we maintain editorial integrity
here
.

Community Poll
Has cancer impacted your mood during the holidays?