My 1st Hotel Stay and a Bit of a Sticky Problem
Last updated: September 2021
It was roughly three and a half weeks after my radical cystectomy, and my husband had received an invite to go to an awards ceremony to celebrate his 30 years service award for the company he worked for. Initially, he had declined the invite as he thought it was too soon after my surgery. But this was an all expenses paid evening and overnight stay in a very nice hotel culminating in him being given an award for his 30 years of loyal service. I couldn't let him miss this; he had earned this celebratory evening, and my new stoma was not going to stop me. After all, I was going to have to do it eventually, as I wasn't planning on staying at home and never going away again. So now was as good a time as any. My tummy had started to go down a little, plus I had lost quite a bit of weight after surgery so "let's get out there," I thought.
Finding formal attire
First on the agenda was what to wear. All my clothes were a bit on the big side for me, and what woman needs an excuse to buy a new dress? So armed with my laptop, as I didn't really feel up to going out and trying things on, I surfed the net for a nice new dress. I chose a black off the shoulder fitted little number (it did have a certain amount of Lycra in the material) with silver little dot embellishment all over. This would take the eye away from my shape and the Lycra would provide a degree of stretch and comfort. I booked in at the hairdressers and chose a nice new style and color. I also purchased a wide, light support Lycra waistband (can be purchased on line from ostomy underwear suppliers). This would go on under my dress. Just below the bra and just over the top of my granny knickers. This did 3 things:
It provided gentle support for my stoma
It would keep my bag in place
It would give me a smoother line under my dress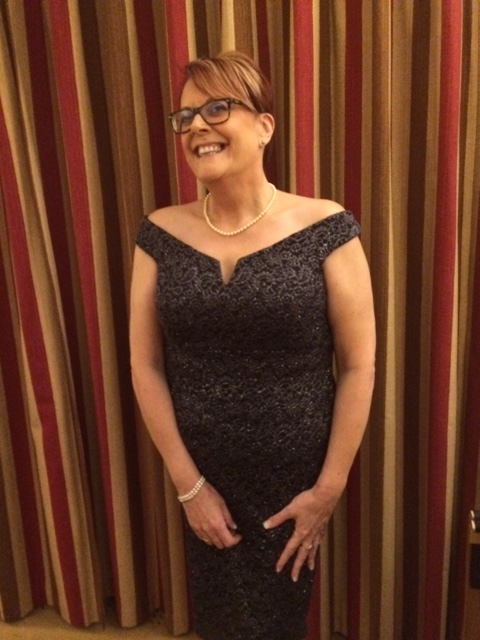 Supplies for an overnight stay
Next, to pack all the items for my stoma. Fortunately, I had just received an order of supplies. So without further ado I opened the newly delivered box of bags, took out 6 and set about cutting the hole to the correct size. Bags prepared, this is a list of the items I took for my first overnight stay.
6 bags
Adhesive remover spray
Barrier spray
Adhesive remover wipes (6)
Flange extenders (12)
Stoma paste (this was because I had dips in my skin as swelling was going down and the paste is used to fill in dips and give a flat surface for the bag to adhere to and also prevent leaks)
Scented trash bags for putting in used stoma supplies (6)
Dry wipes (these are used to help clean around the stoma area and also folded up they can be held over your stoma to soak up any urine whilst changing your bag)
Night bag (1)
Night bag stand
Plastic backed square paper sheets (2)- I put one under the sheet I was sleeping on, "just in case" and the other to be used to lay upon when I changed my bag)
Having a wonderful night
So we arrived at the hotel, I got showered and ready, and I have to say, I hadn't felt this good in a long time. The evening went wonderfully well, although I still wasn't eating very much and passed on the alcohol. It was still early days and I didn't want to upset my stoma. So water and coffee it was for me, with the exception of one glass of wine to toast my husbands achievement. People commented on how well I looked and couldn't believe it wasn't yet a month since I'd had my surgery. I was feeling pretty awesome! It came time to leave the event and return to our lovely room for a good nights sleep; I was now feeling just a little weary.
Ah, first I need to change my bag, even though everything appeared ok, I had been advised to change my bag every other day. So out came the small suitcase with all my "supplies". I had been advised if going away to take double the amount needed. I was taking no chances, I had brought 5 times the amount needed or so I thought! So sheet placed on bed, all items I required were to hand and I set about doing my change.
Trouble changing my bag
That's when it happened, I had removed my bag, got rid of the sticky glue, cleaned the area, sprayed on the barrier spay and then went on to stick my bag to my abdomen. It wasn't sticking! So I threw it away and picked up the second bag, I had plenty with me, so no problem. But that didn't stick either. At this time I started to panic a little. Three bags down, three to go. I went through all 6 bags and I realised, it wasn't anything I was doing wrong, it was the adhesive or rather lack of it on the bag! There was clearly a problem with the bags, but all had been ok up until now. It was then that I realized I had taken all 6 bags from the new box that had been delivered the day before. Lightbulb moment, there must be a fault with the glue on this particular box of bags.
Heading home early
So I stuck on the last remaining glueless bag as best I could and stuck the extender flanges all around it, to try and hold it in place. We had no choice but to pack up our bags and go home to sort the matter out. Luckily, hubby hadn't been drinking. It took about an hour to get back home, with me clinging onto my bag all the way home, trying to help keep it in place. I've never felt so relieved to be back home.
I went upstairs and sorted myself out. I used a bag from supplies I already had and not the newly delivered ones and all was good. I then went to check the newly delivered bags. 6 boxes, all with the same manufacturer serial number all with the same problem. I rang my suppliers first thing the following morning and they agreed to arrange replacement to be sent for all of the 6 "dodgy" boxes.
A rare occurrence
This is a very rare thing that happened, so please don't think you too will get "dodgy" supplies. But just be mindful to have tried and used any boxes of newly delivered supplies prior to taking them away with you. Also, after this event I found a "paste on" silicone glue (there are many different manufacturers of this product). It comes in a small bottle with a brush a little bigger than that used for nail varnish. Some come in small spray cans, others in tubes . But all basically do the same thing. You paint this glue onto your baseplate, allow a minute or two for it to go "tacky", then place on abdomen as normal. It will stick and hold your bag as normal.
So the moral of my story when going away is: Don't take all "bags" from same box, without at least trying them first. Try if possible to have a "glue" as a back up should this ever happen, you can carry on using the glueless bags by adding your own glue to the baseplate. But above all else, get out there, enjoy life, stay over in that fancy hotel. It's only by doing these things that we truly get to understand the joy our new friend, our little rosebud stoma has given us.
This article represents the opinions, thoughts, and experiences of the author; none of this content has been paid for by any advertiser. The BladderCancer.net team does not recommend or endorse any products or treatments discussed herein. Learn more about how we maintain editorial integrity
here
.

Community Poll
Are you comfortable navigating and picking health insurance to best meet your needs?